5 Essential Digital Marketing Strategies for your Company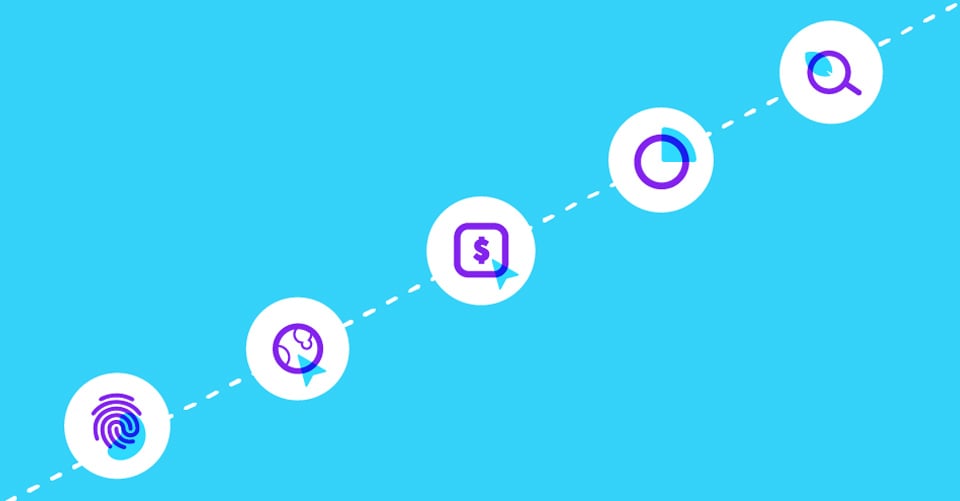 Hi there! We know it´s been a while since we published our last english blog, but we're back and we'd like to introduce you fully to an effective marketing strategy that has revolutionized our business.
In an increasingly digitized world, it is necessary for businesses to begin their digital transition in order to compete in an ever-changing market.
It is necessary for business people to understand the behavior of their target market, and this can only be done through the latest digital media.
What is digital marketing?
Digital marketing are those promotional and commercial strategies that are carried out through the internet and digital media such as smartphones, computers, or tablets to capture your audience's attention.
According to a study conducted by Hootsuite, 57% of the global population uses the internet, which represents around 4.388 million people. This indicates that it is necessary for you to implement a digital marketing strategy to reach your prospects or potential customers that are looking for your products online.
We know that defining this is not an easy task and the road to selecting a strategy might be confusing.
Would you like an expert´s advice? Click here for a FREE assessment!
Our years of experience in Digital Marketing have helped us to develop a framework that helps companies with their online growth.
Our framework is a simple methodology designed for business people that would like to boost and scale their business through digital marketing strategies.
Our strategy is made up of 5 stages that represent the different services and strategies of digital marketing you need to take your company to digital growth.
Every stage in our strategy is equally important and none can work without the other. This is why we recommend you not to skip any and carefully read about each of them.
Stage 1: Brand identity
Just as a citizen needs an ID to identify himself from the rest of the population, so do businesses need an identity, also known as "brand". In this stage, the strategies you can implement are: Buyer Persona and Branding
A buyer persona is a fictitious profile of your typical customer that describes him/her in more detail with ethnographic aspects such as age, gender, habits, beliefs, psychological profile, motivations, objectives, challenges, and concerns. It's important to know that your buyer persona is built upon real data, not stereotypes and/or uncertain rumors.
Branding will help you build your brand identity from scratch. Branding is the construction of your brand and includes all the actions that must be performed to create a desired impression of your business in front of your consumers over time.
You may be asking yourself…
Why is it important for businesses to have their own brand?
Imagine the following scenario: you are looking for a bakery recommended by your friends in a specific area, but on that same street there are 4 other bakeries, ¿how do you know which one is the one you are looking for? Simple! First thing you look for is the bakery's name and some symbol (logo) as these make up their brand.
Without a brand businesses would not be able to differentiate themselves from the many competitors that offer the same products or services.
To avoid confusion on the side of consumers and to build a relationship of trust and credibility, it is necessary for your branding to be consistent and uniform across all media. Imagine if your company had different logos, slogans, or colors in different social media platforms, most, if not all, consumers will not know if they are buying from or communicating with the same business or may think they are fake profiles. This could negatively impact your sales and revenue. According to a study made by Lucidpress, having brand consistency increases a company's revenue by 33%.
Now do you understand why it is necessary to have a well-defined and consistent brand?
Having a buyer persona and a professional image will create a positive consumer perception of your business while highlighting your personality, values, services/products, and/or culture.
But how can you be sure that you are creating a consistent and valuable brand?
We recommend you to have the following well-defined:
One same logo for all your media and online profiles
The colors that will represent your brand in the media
Consistent photo styling in social networks
Align your website name with your company name
Once you have your brand well-defined, you are ready to move on to the next stage!
Stage 2: Online presence
Once you have created your brand, it's time to start building a solid online presence for your business.
While it is true that there are many media, tools, and strategies that you can use to promote your services online, we have identified the most effective media for companies.
At this stage, the strategies to implement are: Google My Business, Website, Social Media, and Video marketing
Google My Business is a free platform created by Google to help businesses that want to position themselves locally on the internet. When a user searches for products similar to the ones you offer, your business will appear in search results increasing your brand recognition and getting potential customers for your company.
By using Google My Business, users will have information available 24/7 about your business such as business hours, products you offer, and location on Google Maps. Likewise, you will have access to reviews left by previous customers along with a statistics panel that shows what keywords users have used to find you, user activity when encountering your business listing, daily call logs, and photos posted.
Google My Business is an excellent tool that will allow you to track valuable information and see what you are doing right and what you need to improve.
Having a professional and optimized website is a fundamental part of your company's online presence. While it is true that an attractive design is key to generate interaction, if your website is slow, disorganized and does not answer the user's questions, they will end up leaving your website in search of another one that does respond to their needs. A well-defined website can help your company meet its sales and marketing goals.
To have a functional and attractive website, we recommend you the following:
Project a professional image: a study by Blue Corona shows that 38% of users will stop interacting with a website if it does not have an attractive design.
Keep it simple: less is more. If a website looks complex to users, they may feel intimidated or confused. You should have a simple, clean and modern website that is easy to navigate and easy to find important information about your company.
Use clear calls to action (CTA): place clear calls to action in various sections of your website, this way it will be easier for the user to find them and you can guide them to take the action you want.
Offer exclusive deals: unique and personalized offers on your website will attract traffic and potential customers interested in your products or services.
Optimize your website for mobile devices: studies show that 91.5% of users access the internet through mobile devices. Make sure your website is optimized, adapts and can load quickly on the different screen sizes of mobile devices.
With these strategies you will be able to have an optimized, functional and attractive website that creates an ideal experience for your user.
In an increasingly connected world, having a presence on social media is a fundamental element for your business' letter of introduction. According to Marketing eCommerce, due to the pandemic, in 2021 the penetration of social media reached more than half of the population, with a total of 53.6% of people worldwide using social media. The most used social network is Facebook, however, depending on your target market, you may need to expand to more than one.
This means that social media not only help you increase your brand recognition and create a community of active users, but also make it easier to spread your products or services to more people.
Having a correct management of social media is necessary if you want your company's content to reach the right audience. If you are about to launch a social media campaign you should stop and think about the following, what is the objective of your campaign?
Would you like more people to know about your company?
Do you want to promote your products or services?
Do you want to convert more customers?
Once you define your objectives, you can start planning the strategies for your campaign. Your objectives will determine the types of ads you plan to run.
Video marketing is about using videos to promote a product or service within a marketing strategy. According to a HubSpot study, 54% of consumers want to see more video content related to the brands or companies they follow. Also, most video marketers get 66% more qualified leads per year, proving that video marketing is one of the biggest trends in content distribution strategies.
Before you start recording effective videos, you need to first define what the objective of your video will be, what message do you want to convey? Once you define this, you will need to choose what type of video will best suit the type of content you plan to share. Will it be an animated video? Corporate? Promotional? With all this in mind, you're ready to start putting together your script and start shooting!
Some of the benefits of implementing video marketing are:
Engaging, dynamic, and simple method to share valuable information with users.
Relatively inexpensive and you can produce it yourself.
It is shareable content through social networks.
Helps SEO positioning in search engines.
It makes the user feel involved and engaged with your content.
A creative video, with simple and concise language, will draw the attention of potential customers to your product and content.
If you implement all these strategies at the stage of building your online presence, you will achieve a good reputation among users and thus generate traffic to both your social media and your website.
Stage 3: Paid advertising
Have you ever noticed that certain companies' websites have generated increased search engine traffic through ads on search engines or social networks?
Paid advertising is a digital marketing strategy that consists of quickly positioning your website in the first search results on Google through paid advertisements. At this stage, the strategies to implement are: Google Ads, Local Services Ads, and Facebook Ads
Google AdsIn order to run a paid advertising campaign in Google Ads, you must start by doing research with which keywords you want to appear, set a budget, set up a structure of campaigns and ad groups and establish the network where your advertising will be shown. Once you do this, your business will be able to appear in the first Google searches.
Local Services AdsHave you ever wondered how you can promote your services online while differentiating yourself from your competition? Local Services is a tool that allows you to promote your services through Google. With Local Services Ads, users near the area where your business is located will be able to see it in the first search results. Once the user performs a search related to the services you offer, they will be able to see important information about your business such as name, schedule, location, reviews, or phone number.
Facebook AdsFacebook Ads allow you to set up advertisements on Facebook. This tool allows you to promote valuable content in the format of images, videos, photo carousels, or instant experiences. Thanks to the various features of the platform, you can segment your audience more accurately with characteristics such as age, gender, occupation, interests, or behaviors.By using paid advertising campaigns you will be able to see results almost instantly, since your business ads will appear as long as you pay the established amount per click.Some of the benefits of using paid advertising are:

You can include as many keywords as you wish in your ads.
You will get results quickly
You will pay only when a user clicks on your ad (PPC).

If you want to generate leads and traffic quickly, you should definitely consider using paid traffic.
Stage 4: Contact management
In the past, many companies used old-fashioned methods to keep track of their customers such as writing in a notebook, document, or even manually entering data in Excel. Now, you can use different technologies to automatically keep track of your leads or customers.
This stage is key to strengthen the relationship with your customers and know what valuable content you can offer according to the stage they are in the buying cycle, the strategies to implement are: CRM and Sales funnels
A CRM (customer relationship management) is a tool that will help you keep track of all the relationships with your customers from the moment they are prospects until they make the final purchase.
The CRM stores information about your leads/customers so that you can get to know them better, know what their needs are, offer them new products, nurture them with valuable information and ultimately keep them loyal to your company over time.
A sales funnel is a tool that helps you identify where your customer is in the buying cycle. Once you identify what stage your prospect is in, you can provide valuable material that will help them decide if you are the solution to their problems.
Once you have successfully acquired customers, you need to nurture your relationship with them to ensure that they stay with you for a long time, and thus increase their CLV. CLV, or customer lifetime value, determines how profitable that customer is over time and will help you decide whether you should invest time and resources to retain them with customized strategies, or focus on other customers.
With these strategies, you will be able to foster relationships with your prospects/customers and be able to follow up with them until they become loyal promoters of your brand.
Stage 5: Organic Traffic
Have you ever wondered why the websites that appear at the top of Google searches manage to have that ranking? This is because they have managed to generate quality traffic organically with strategies that bring value to their websites.
Organic traffic, also known as SEO (search engine optimization), is a strategy to improve the positioning of your website in search engines and generate traffic in a natural or organic way.
In order to get a better position in search engines, you can:
Create a blog with valuable information
Optimize keyword usage on your website
Provide relevant content
Be redirected to your website by authority pages that publish content related to yours
Share your website through social networks to generate more traffic
With these tips, you will be able to improve your search engine rankings organically.
Remember, in a digitized world every day is fundamental to start taking steps towards a digital transformation. Our strategies have been proven over the years and we have helped many businesses to take this important step.
If you would like more information about what strategy you should use to scale your business, we invite you to a free consultation with one of our experts by clicking here.